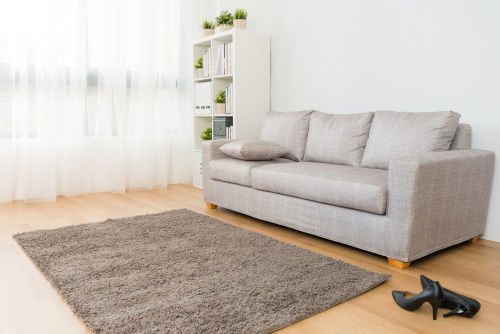 Making sure any type of carpeting stays clean is a tough job. Area rugs present another type of cleaning need. Avoid unsightly stains, bad smells, and general debris by following our rug maintenance steps below.
Step 1: Shake it Out
The first step is to shake out your rug. If you can safely and easily carry it outside, take it out. When outside, shake off any dirt, dust, or debris caught in the rug. Shaking out your rug will help save you time and your cleaning devices effort when you get further along the process.
Step 2: Vacuum and Do it Often
Next up comes the vacuuming stage. After you got rid of the big chunks, now you can suck out the little things. Regular vacuuming will help keep dust from settling into your rug and will help you maintain its original luster. Try to vacuum once every week or every other week. Don't forget to get the bottom side as well. Avoid vacuuming over the edges as that can fry the material.
Step 3: Handle Stains with Spot Cleaning
Stains like most problems are easier to deal with the quicker you get to them. If you notice a spill, begin to blot it with a wet rag immediately. Start from the outside of the affected area and move towards the center. Avoid scrubbing. If it has already sunk in too deeply, you may need professional help.
Step 4: Keep it Dry
With wet shoes, water spills, and general humidity, your area rugs have many chances to get wet. Squeeze out any water you can. Then take it out to dry in the heat of the sun (this works during the winter as well - make sure it isn't cold enough to freeze. If your rug is too big or it is too cold outside, use fans to speed up the drying process. Make sure to prioritize drying to avoid mildew and mold.
Step 5: Call in the Pros for Deep Cleaning
A deep carpet cleaning from professionals can help maintain the quality and resilience of your area rug essentially extending its life. If you still notice dust coming out of your rug after you vacuum, it might be time for the pros. The older your rug is, the more extra care it will require. Calling in professionals with industry knowledge and experience can help protect your rug from any harm during the cleaning process.
The team at Plymouth Carpet Service is available 24/7 for business and home carpet cleaning services. Give us a call today at 734-453-7450 to schedule your next carpet cleaning.