Area Rug Cleaning in Canton, MI
The benefits of hiring a professional to clean your area rugs:
Avoid damage caused by improper cleaning.
Effectively remove stains with expert spot cleaning.
Prolong the lifespan of your rug.
Prevent color-loss
Eliminate bacteria & allergens.
Protect your carpets from future spots & staining.
Restore a like-new appearance.
Save time & effort.
---
Plymouth Carpet Service understands that your delicate fabrics are an expensive investment and can last much longer than traditional carpets and upholstery, up to 150 years or more with the proper care and attention.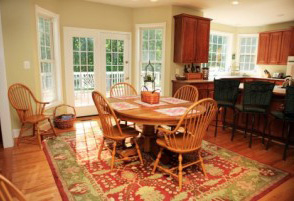 This is why we ensure that your rugs are all carefully treated only by our trained specialist in house using a very cautious and gentle cleaning process. We provide stain removal, spot cleaning and much more.
Your oriental and area rugs are not just art treasures. They are also very valuable investments. That is why here at Plymouth Carpet Service we clean them with so much care and attention to detail. We customize the cleaning process for the needs of each individual rug.
---
With using patented tools and equipment designed specially for the cleaning or oriental rugs, we provide a thorough and effective, yet gentle, cleaning process:
1. Measure and Pre-Inspect
Guaranteed accurate pricing.
Help us meet your expectations for your rug.
---
2. Color-Test
Ensures that all rugs are safely cleaned without damage.
Provides you with the best possible job.
---
3. Vacuum With Pile Lifter
Thoroughly removes damaging dirt and grit that can cut fibers and shorten the life of your rug.
---
4. Pre-Treat Problem Areas
All effort will be giving to remove troublesome spots, without damage or color loss.
---
5. Agitation
Gentle Agitation, safely suspends soil leaving rugs clean and fresh.
---
6. Extract / Clear-Water Rinse
Leaves no sticky residue.
Rinses solid and detergent from delicate fibers.
---
7. Apply Protector
If wanted, a protector is applied to help prevent spots and staining.
---
8. Dry and Post Clean Inspection
The rug is inspected, and either hung dry or speed dried using air movers pending on type of rug.
This helps prevents damage and browning.
---
9. Hand Clean Fringes
Cleans and restores softness and color.
---
10. Packaged for Delivery or Pick Up
After the drying process, all rugs are again thoroughly inspected, vacuumed and wrapped in heavy brown paper for delivery or pick up.
Contact us any time – we're available 24/7 to give your home or business the deep down clean it needs!