Tile and Grout Cleaning in Canton, MI
The benefits of hiring a professional to clean your tile and grout:
Avoid breaking, damaging or staining tiles.
Ensure that the use of proper cleaning agents.
Prolong the life span of your tiles.
Eliminate bacteria & mold.
Avoid future mold & mildew.
Restore a like-new appearance.
---
Cleaning tile floors on your own can be extremely hard work, not to mention it can get very messy and uncomfortable.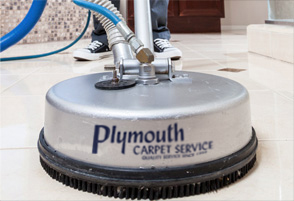 The fact is that it is near impossible to achieve the results that come with using Plymouth Carpet Service. The problem lies with the grout being such a porous material that collects dirt and grime very easily, while also discoloring it. Our professional staff is able to restore and bring back the new look you once enjoyed.
Plymouth Carpet Service's trained technicians provide a very professional service - beginning with the inspection of the floor in order to determine the best cleaning process as well as the most effective cleaning agents. After the inspection has been completed our highly trained technicians will initiate the cleaning process using high-pressure water along with a vacuum that will extract the dirt that lays deep within the tile and grout.
Tile Sealing
After the cleaning process is completed, upon your discretion, a finishing coat of a clear sealant can be applied, which works to protect your grout. The sealant creates a clear coat as well as penetrates porous texture of the ground to ensure a protective barrier against staining. This also helps with any future tile and ground cleanings.
---
Having a cleaning schedule can help keep your home neat and tidy. It is a good way to stay on track with your cleaning to ensure that nothing in your home goes untouched for too long a period of time. Floors, unfortunately, seem to go by the wayside... Read More...
Contact us any time – we're available 24/7 to give your home or business the deep down clean it needs!